MINI CUTTERS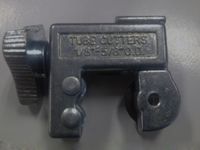 For use in extremely tight places, these tube cutters require minimal swing around the tubing.
The REED MC1 features the smallest cutting radius in the industry and finer thread on screw for easier tightening.The heavy duty MC2 is the strongest mini cutter available. Larger, deeply knurled knob allows easier tightening. MC3 has an even larger capacity
SWIFT SLICE - is the fastest way to cut copper tubing. No adjusting of cutter wheel is necessary, simply twist a few times and your cut is complete. The integrated self adjust mechanism makes cutting so easy you only need one hand to do it. How swift is that?